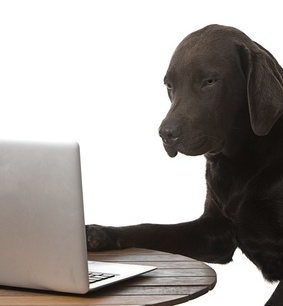 Very best wishes to you, your family and, of course, your Labrador's for 2009. We hope it will be a wonderful year for all our readers and visitors to the website.

This month we would like to share with you a lovely article sent to us by one of our readers.

The lady doesn't want to be named but i'm sure you will enjoy the 'Insides And Outs Of Labrador Retrievers.'
Insides And Outs Of Labrador Retrievers
Here are a few questions that may interest Labrador owners:

What is a retriever? What makes my Labrador special if it's a retriever?

Retrievers are best known for their soft mouths and their willingness to retrieve prey and other objects without damage. They are actually hunter companions, but in the household, retriever dogs are much more playful and loyal.

A Labrador retriever's mouth is so soft that it can carry an egg without breaking it. Labrador retrievers love to fetch things and make wonderful assistance dogs.

What is their temperament like?

Knowing your Labrador retrievers temperament is essential for proper care for your lab and having the most fun with your dog.

All Labrador retrievers are well-balanced and friendly. They don't have many of the negative traits like being aggressive, destructive, hypertensive, jealous, and insecure, making them very efficient retrievers.

They are excellent swimmers and enjoy time in the water because of their water-repelling coat. Labs see fun in training and are always open to new tricks and activities.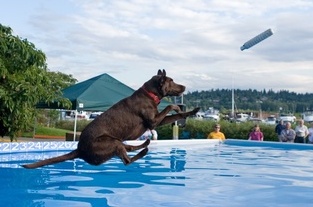 Many labs have a large appetite and will usually do anything for food or affection. Labradors aren't really that noisy, but sometimes barks at noises that come from unknown sources or critical situations.

Why are Labradors retrievers so popular?

Labrador retrievers are the most popular bred dogs in the UK, United States and eleswhere. They are popular for their talent and usually populate most of the dog shows. Families love to have them as pets due to their friendly nature.

They are excellent for search and rescue operations and double as wonderful therapy dogs. Labs possess more good traits than just about any other breed.

What makes Labrador retrievers as wonderful pets?

Labrador retrievers love attention and are easy going on strangers making them very lovable by all pet owners.

They are wonderful family companions regardless of age and get along perfectly with other pets like cats. People who are experiencing depression often find comfort in Labradors and can be quite sympathetic too at times.

Labrador retrievers are always full of energy and never fail to entertain pet owners and visitors. Kids also love them for being playful and friendly.

It is also their handsome looks that attract most people who are looking for a good pet.
Recent Updates To The Website
We are trying to add at least one article or page to the site every day and the latest include:

(NB: If have opted to receive the non-HTML version of the newsletter you may need to copy and paste the link into your browser)

Labrador Coat Colours

The Silver Labrador

The Dudley Lab

Adopting A Labrador
Have You Got Your Free Ebook?
We know that some of our readers subscribed to the newsletter before we added the free ebook to the site so, if you haven't received yours yet, please go to this page and enter the word pamper into the password box. You will then be able to instantly download the book.
Readers Labradors
We would love to hear all about your Labs at home. Please consider visiting the site and let us know all about your own dogs. And a photo would be great! To see your Lab on the site please go to Readers Labradors
And Finally
Thanks To Bespoke Pet Gifts

Many thanks for reading

Craig and Lynn Ellyard