Common Labrador Health Problems and Concerns
Luckily, Labrador health is something of an enigma for a breed that is renowned as both a lively and boisterous pet and a hardworking dog. A Labradors constitution, good or otherwise, is often the product of the Lab's family tree.
If you have a Labrador health question, just ask and we'll answer it for free. Just fill out the form on the bottom of this page. Commonplace Labrador retriever health problems include
hip and elbow dysplasia
hereditary myopathy: a disease which effects the muscles
luxating putella which leads to the leg appearing bow shaped
ear infections including inner and middle ear infections
canine cataracts
progressive retinal atrophy
There are however certain conditions which do tend to effect labs and you can read about the three main areas of concern on our page about Labrador Retriever health.
Labrador Retriever Skin Problems

There are several types of Labrador skin problems including:
Acral lick dermatitis: a lic granuloma (LG) is a common condition where repeated licking causes the deveopment of a raised skin nodule. The problem commonly occurs on back of the front limbs or the tops of the back limbs. The dog licking is often caused by a food allergy, seasonal allergy (atopy) or food sensitivity. Click here for more on dog allergies
Acute moist dermatitis (dog hot spots): this occurs due to self trauma (scratching, licking) in response to a dog skin problem such as allergy
Atopy (seasonal allergies such as pollen): allergy due to an inhallant such as hay fever.
Folliculitis: inflammatory reaction in the hair follicles
Lipoma: a benign (not cancerous) skin tumor
Seborrhea: an increase in skin scaling
Otitis Externa (dog swimmers ear): inflammation in the external outer ear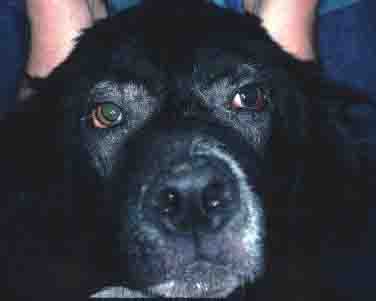 Labrador health concerns include skin problems such as this Lab with atopic dermatitis, a seasonal allergy caused by inhaled allergens such as pollen
Source: Washington State University

Labrador Stomach Health

A serious stomach problem among Labradors is gastric torsion otherwise known as bloat.
This condition appears when the stomach becomes twisted, trapping undigested food and gases. This leads to a rapid swelling in the abdomen and cause serious pain and death if not immediately treated.
Labrador Cancer

Another threat to Labrador health is the dreaded disease of cancer which is an increasing problem, threatening the lives of even younger labs.
Other labrador health and cancer related problems to watch for are osteosarcoma which is a malignant (cancerous) bone tumor and pancreatic cancer.
In unspayed females, beware of problems such as dog breast cancer. Palpitate the mammary glands of your dog for small pea size lumps if this is of concern.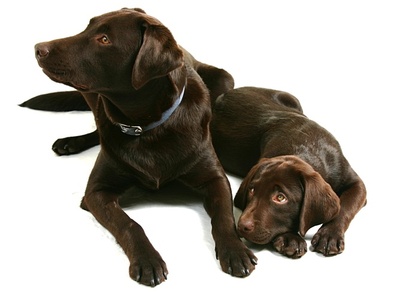 Other Labrador Health Problems

Other labrador heath problems include epilepsy, osteoarthritis - prevalent in older dogs, heart disease and diabetes (also see our information on a diabetic dog food and diabetes in dogs. Many of these diseases are associated with the breed's propensity to put on weight.
Obesity is the cause of many Labrador health problems and can be avoided by feeding your Lab a healthy diet and allowing it plenty of regular exercise.
Many problems, such as myopathy, are inherited, the product of over breeding down the years, so when acquiring a Lab, it is crucial to buy from a breeder who is able to check for inherited disorders.
Labrador Behavior

One thing that many of us worry about is leaving our Labs home alone. For more information on this see our page on Separation Anxiety In Dogs.
Labrador Retriever Lifespan

By the way if you are concerned with how long your Lab will be with you visit our Labrador retriever lifespan page for some reassurance.
Labrador Disease Prevention
Obviously precautions need to be taken against the puppy contracting some of the more awful diseases and this includes vaccination. Your Lab puppy simply must be given vaccines. For more information visit our page on dog vaccinations.
As with any breed of dog prevention is always better than cure. That means regular exercise as well as regular check ups at the vets. As well as giving a thorough examination, the vet will also immunise your Lab against heartworms and fleas. For information and advice of finding the right health care provider for your dog see our page on choosing a vet.
Veterinary fees can be expensive, but prevention is better than cure in negating possible problems with your dogs health. But, it is of course essential that you use the services of the best vet for your Lab. Also consider low cost pet health insurance, such as policies offered by Pets Best.
Taking the time and effort to find a reputable breeder, who cares and is knowledgeable about the breed and checks his labs for genetic defects before breeding should ensure that you buy a healthy pup, and one that should be free from serious ailments throughout most of its life.
Also, it must be stressed that no Labrador puppy should be brought home until it is at least seven weeks old.
Despite concerns about the health of Labrador Retrievers don't be concerned if your puppy appears hyperactive. It is merely demonstrating the boisterousness and love of playing that is associated with the breed.
Labrador Age Calculator

Following the same theme, to work out your dogs age in human years you can visit our Dog Years Calculator and our guide to Labrador Retriever life expectancy.
Have A Labrador Retriever Health Question for our Veterinarian?
Do you have a Labrador Retriever health question? We'll answer it for FREE! Just fill out this form and our Vet will get back to you as soon as possible.

Please include information such as the sex, medical history, medications, changes in behavior, when symptoms first appeared and anything else you believe would be helpful. Please send a picture, particularly if the problem is skin, eye or ear related.

Questions are answered on a first come, first served basis and may take some time depending on the number we receive. If you have an urgent question, we suggest using this low cost online veterinary question service that has Vets standing by 24 hours a day, 7 days a week.
What Other Visitors Have Asked our Vet
Click below to see contributions from other visitors to this page...

Information on Other Labrador Health Concerns

Labrador Retriever Reproduction Problems

Labrador Hip Score

All About Dog Pregnancy

Protect Your Puppy From Parsites

Dog Worms

More on Dog Worms