Different Type of 
Dogs Skin Problems And Canine Skin Diseases
In most breeds of dogs skin problems are quite common with the back, ears and paws being the area's most likely to be effectedby canine skin diseases. There are a number of different ailments that can befall dogs but, as with most aspects of Labrador health, issues can usually be quickly resolved.
But, before we look at the different kinds of canine skin diseases, let's think about the symptoms and how you can tell whether your Lab is suffering and if he needs to be treated by a vet.
Symptoms Of Labrador Skin Problems
Some symptoms are more obvious than others but if you notice any of the following on your dog notify your vet immediately:
A rash or skin discoloration is the most obvious sign of skin problems in a dog.
All dogs love a scratch but if they are scratching excessivelyand breaking the skin there could be a problem.
The appearance of spots could be an indication of problems to come.
If your Lab is losing hair (over and above the usual moulting) in clumps this could be a sign that he needs to see a vet.
One of the warning signs you should be looking out for is flaky or greasy skin.
Any skin lesions, especially those that are discharging fluid, are a major cause for alarm.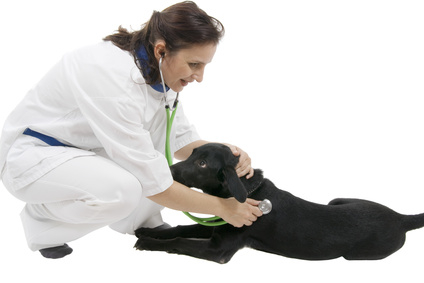 Dogs Skin Problems - At The Vets
Once you have taken the dog to the vets tests will need to be carried out to determine exactly what skin disease the dog is suffering from. These tests could range from skin scrapes and swabs to blood tests and microscopic examination.
A skin scrape is one of the most common ways of determining a diagnosis. The vet will use a blade to collect skin fragments and debris by rubbing the blade over the infected area. The collected material will then be examined under a microscope with the vet looking to identify mites, ticks or bacteria.
Blood tests are also useful for identifying a range of problems including dog allergies. Ticks and fleas can be easily identified by simply combing the dog whilst ultraviolet light can be used to detect if ringworm have penetrated a wounded area.
Canine Skin Diseases
The most common problems are:
Treatment For Dogs Skin Problems
Canine skin diseases can be treated in different ways depending on the problem:
Antihistamines or steroids can be used to treat allergies and inflammation
Antibiotics and antiphrastic medicines will be used to treat parasites and bacterial infections.
Hyposensitisation Treatment to build up the dogs defences against allergens.
Removal of lumps, bumps and lesions
Acid supplements are often used against many skin problems and as a preventative measure to promote healthy skin
Summary
Most Labrador skin problems are quite apparent and easy to spot. Tell tale soreness is the usual indicator of problems but, as we said at the start of this page, if you suspect your dog is suffering from any kind of skin infection or inflammation please take him immediately to your vet.
Have A Labrador Retriever Skin Health Question for our Veterinarian?
Do you have a Labrador Retriever skin related question for our Vet? We'll answer it for FREE! Just fill out this form and our Vet will get back to you as soon as possible.

Please include information such as the sex, medical history, medications, changes in behavior, when symptoms first appeared and anything else you believe would be helpful. Please send a picture to help us understand the skin problem.

Questions are answered on a first come, first served basis and may take some time depending on the number we receive. If you have an urgent question, we suggest using this low cost online veterinary question service that has Vets standing by 24 hours a day, 7 days a week to help.
What Other Visitors Have Asked our Vet and Related Answers about Dog Skin Problems
Click below to see contributions from other visitors to this page...

Why is my Labrador Losing Hair? Not rated yet
Reader Question: : Help for a Lab that is Losing Hair My 7 month old Labrador Retriever is suffering from thinning hair. Every time I turn around it …
Related Articles
Dogs Skin Problems And Other Labrador Health Issues