Create your Own Homemade Dog Biscuit Recipes
Many pet owners like to create their own dog biscuit recipes.
They know that homemade dog treats are great for their pets. They much more wholesome and full of nourishment than the shop bought treats, they are cheaper and they are fun to make as well. Why not get the whole family involved?
Your canine friends will certainly appreciate it
Each Christmas, my sister sends my four dogs peanut butter dog biscuits she makes herself. I swear the dogs know that tin when it comes and that it is for them!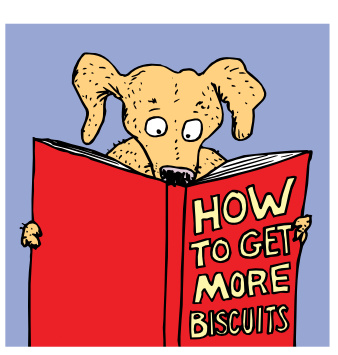 Dogs are funny, they may not remember to stay away from that mud bath in the garden even though they had to go through a rigorous cleaning, but they sure know where the dog treats are don't they?
There are many variations of dog biscuit recipes that you can make yourself to ensure you dogs are getting healthy and nutritious treats all the time!
On this page you will find our favourite recipes as well as links to recipes submitted by our readers. If you like to make homemade dog treats why not send us your own dog biscuit recipe? You can see how at the bottom of this page.
Peanut Butter Dog Biscuits
Here's what you'll need: 1 ½ Cups water ½ Cup vegetable oil 2 Eggs 3 Tablespoons butter 2 Teaspoons vanilla 2 Cups flour ½ Cup cornmeal ½ Cup oats
Blend all the wet ingredients together and then whisk the dry ingredients together. Mix the wet mixture into the dry and then form a big ball of dough. Roll out and cut into any shape you desire and bake on a non-stick cookie tray at 400 degrees Fahrenheit. Allow biscuits to cool and store in an airtight container.
Gourmet Dog Biscuits
Here's what you'll need: 12-16 Ounces of raw liver 1 ½ Pounds of white or whole wheat flour 8 Ounces of oats 3 crumbled Bouillon cubes (either chicken or meat flavor) 1 Cup of water 2 Eggs, beaten
Preheat oven to 350 degrees Fahrenheit. Grease 3 baking sheets. Finely chop the liver in food processor or by hand. Combine flour, oats, crumbled bouillon cubes, mix in eggs and the chopped liver. Add just enough water to make a slightly sticky but firm dough.
Evenly spread the mixture on the sheets approximately 1/2" thick. Before cutting the biscuits, dip a small dog-biscuit cutter in flour. Take out the uncut parts. Spread the rest of the dough on another cookie sheet and repeat. Bake for 1 hour. Keep in an airtight container in refrigerator for 2 weeks.
The recipes for homemade dog treats can be shared with friends and family alike and make sure to stay away from bad ingredients like nuts, raisins, grapes, and chocolate. All of these are bad for your dog.
Try to experiment with dry ingredients in any of the dog biscuit recipes above and add your own touch—your dog will be glad you did!
Tell Us Your Favourite Dog Treat Recipes
Do you have a favourite dog treat recipe? Why not share it with all our readers!
Dog Treat Recipes From Other Readers
Click below to see dog treat recipes from other visitors to this page...

Related Articles
More On Homemade Treats And Dog Biscuit Recipes 

More Tasty Dog Treat Recipes