How To Choose A Labrador Puppy
Choosing to buy a Labrador puppy is always massively popular with potential new dog owners but it is important to be aware what you are looking for when you are preparing to buy one.
When choosing a young Labrador it is also important that you purchase the animal from a reputable breeder recognised by your national association
To help you choose a puppy reputable breeders will provide health records for the pup. He will frequently handle pups and will have socialised the dogs so that they are not afraid of people.
Labrador pups bred by good breeders will also have had their puppy dew claws removed and have had their first shots by the time they are six weeks old.
Crucially, Labrador puppies will not be allowed to be taken by new owners until they are seven weeks old except in very exceptional circumstances.
As with any breed of dog choosing a puppy is very much down to the buyers personal likes and dislikes as well as the first impressions made by those cuddly bundles of fun. Lab pups come in chocolate, yellow and black with variations within each colour.
People always have their own particular reasons for choosing a Labrador puppy but, in general , when purchasing a pup it is important to consider their generics and disposition.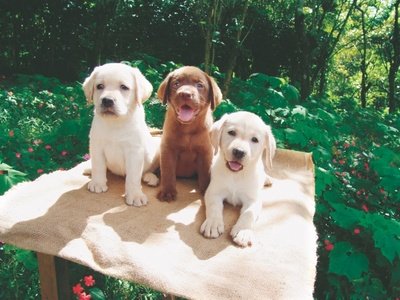 When choosing a Labrador puppy it is best to survey the whole litter. Beware of one that is shy or overly reserved, even if there are one or two friendly pups.
The genetics of that litter may indicate that not any of the lab pups would make an ideal pet for you or your family.
The same advice applies to a hyperactive litter as aggressive Labrador puppies may not be the best choice of pet.
Having made a mental note of the type of Labrador puppies it may be the best to avoid, the next step is to look at those which might make an ideal pet to choose for you and your family.
The best choice would be to look for pups that are friendly and trusting. Do something to attract attention. If any of the Labrador puppies respond, take him or her into consideration.
Take a closer look at the Labrador puppies. An ideal pet may be a lab pup who does not claw or bite, but can still interact with his brothers and sisters in the litter.
It is also important that you see at least one of the pups' parents. Viewing a parent can help avoid buying a dog from a so called "puppy farm," where the pups are mass bred with little consideration for their welfare.
By viewing where the dogs have been bred, running the eye over the litter and viewing at least one of the parents, you can ensure that your choice will be a Labrador puppy which has been well bred and will be an ideal companion for you and your family.
Related Articles
Buying A Lab Pup 

All About Labrador Puppys 

Caring For Labrador Puppies 

AKC Labrador Retriever Puppies 

Choosing Health Lab Pups 

Training A Lab Pup 

Silver Lab Pups 

All About Labrador Retrievers