The 
Considerations When Adopting Chocolate Labs
One of the most outstanding features in Chocolate Labs, beyond their beautiful sleek colour, is their eyes. Just as Black Labs have black eyes, These dogs have chocolate eyes and sometimes, depending on the breed, pink noses. The breed is known for its friendly temperament and eagerness to please, loyalty and dependability, and capabilities. This is why the breed is used as a service dog for the blind and for emergency searchers.
Dog Breed History
Believe it or not, only 40 years ago was these dogs were thought to be the "ugly duckling" of the breed and were not considered good enough to be show dogs.
Today things have changed and the American Kennel Club (AKC), along with other breeder's associations across the world including the UK Kennel Club, recognize the Chocolate Labs as a breed.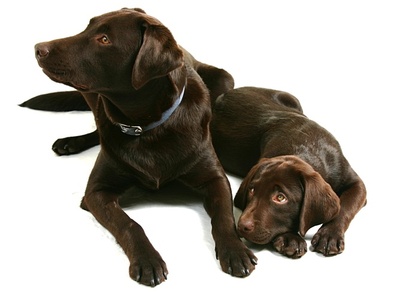 The Labrador retriever first burst on the scene in Canada and through English and Portugal breeding got its name. Along with the Chocolate Labrador, there are Yellow and Black Labs.
Silver and other coloured Labradors are not considered to be purebred Labs by the kennel clubs and are called a "variation."
Size
The official AKC breed size is for the male 22.5 to 24.5 inches and for the female 21.5 to 23.5 inches. In terms of weight, they are approximately 65 to 80 pounds for the male and 55 to 70 pounds for the female.
The Perfect Family Pet
The temperament of these dogs are every bit as playful and affectionate as the Black and Yellow Labs.
A good family pet, they love exploring, pleasing their owners, and playing with children.
Their mellow temperament makes them one of the most popular dogs among families—6 out of every 10 dog owner in the US and the UK have a Labrador.
Agile and curious, they are great swimmers and have a shiny coat. It was bred to hunt birds and ducks and some Labrador owners use these dogs on hunting excursions.
They love to bring back birds and ducks to their hunter-owners as it gives them a sense of achievement and the affection they strive for.
Like other Labs, they are friendly and possess a playful energy that is hard to match.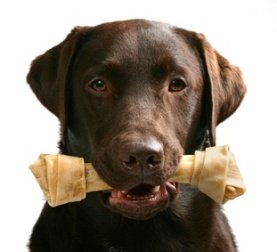 Behavior and Training
Young puppies should learn early on all about leashes and boundaries before their imaginative personality takes over.
If these dogs aren't trained early to listen, you could end up with a teenage dog running down the road to meet and explore new things.
The Chocolate Lab, to some, is perhaps the sleekest looking in appearance and because the hair can tend to be shorter and close to their skin, it can make their extremities appear full and big giving them a sense of clumsiness. They are anything but that. They can jump, run, and leap as well as their sister breeds, the Yellow and the Black and are very fun to own.
Picking a Chocolate Lab Breeder
Picking a good breeder is essential if you are considering getting a puppy. Mos puppies are available for adoption in 7 to 10 weeks and can grow to be 50-70 pounds.
Make sure the breeder you buy from has certifications to breed Labs from the AKC or another organization in your area that has inspected the breeder and the kennels.
Lab Puppies
When you take your new dog home you will find them feisty animals that are interested in just about everything.
They do require a lot of playtime attention and when tired, love to nap near a sunny window.
If you're a family with small children, rest assured that they are great pets to play with your kids as they are not overly aggressive and can even be hand-fed.
They may have once been called the ugly duckling of the Labrador breed, but they have come far in personality and acceptance through their mild mannerisms and gentle approach.
Related Articles
Why Chocolate Labrador Retrievers Make The Perfect Family Pet 

More On Chocolate Labs Puppies 

Labrador Retriever Training Tips 

Cancer Treatment And Care For Dogs