Register Your AKC Labrador Retriever Puppies
With the AKC Labrador Retriever puppies need to be registered in order for the dogs to be eligible to compete in competitions endorsed by the American Kennel Club.
To register a Lab with the AKC the dog must be purebred whether it be purchased from a professional breeder or an individual.
Regardless of where the dog is bought from the seller or breeder should provide the buyer with an AKC application form on which all the relevant details have been completed.
The buyer then needs to finish the form before sending it, together with the appropriate fee, to the American Kennel Club.
Once the AKC have processed the application the buyer will receive a registration certificate confirming the purebred status of the dog. That is what should happen!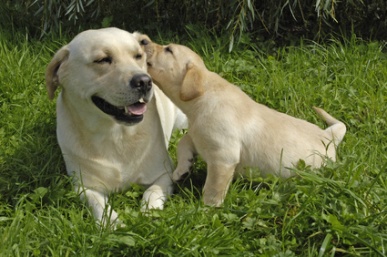 If you go to buy a Lab puppy that the breeder claims is purebred but doesn't have the necessary AKC application form then they should still be able to provide you with the paperwork that confirms the dogs pedigree.
This paperwork must be signed by the seller and include confirmation of the dogs date of birth, sex, colour and the AKC registered names of the father and mother. This information can then be sent in support of your application to the AKC.
Please be aware that if the breeder or seller cannot, or will not, provide the required information than it is highly likely that the dog is not purebred and will not be eligible for registration as AKC Lab Retriever puppies.
If that is the case then, however hard it may be, you would be well advised to walk away without buying the dog and looking elsewhere for a reputable breeder that will be only too happy to provide the correct evidence of pure breeding.
Related Articles
Chocolate Lab Puppies 

Choosing A Labrador Puppy 

Breeding Labs - AKC Labrador Retriever Puppies 

Chocolate Lab Puppies