Signs and Symptoms of
Labrador Retriever Diabetes
Labrador Retriever diabetes is also called Diabetes mellitus is a condition wherein the dog's pancreas produces only small amounts of insulin or fails to produce any insulin at all.
Without insulin, the dog's body will not be able to use up the carbohydrates that they get from the food that they eat because their body fails to convert these carbohydrates to energy.
Because of this the sugar remains in the blood, causing the blood sugar level to rise beyond what are considered to be normal levels.
Diabetes in dogs needs prompt attention and treatment, failure to do so will result in serious complications of the different body organs until such time that the organs will malfunction, eventually causing the death of the dog.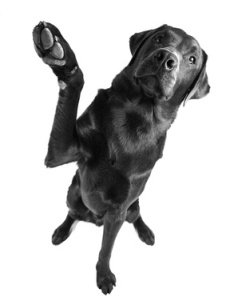 Are All Dogs at Risk For Diabetes Mellitus?

Diabetes strikes 1 in 400 dogs. Almost all breeds are at risk for developing diabetes, including Labs. Labrador retriever diabetes is not common but is something that should not be overlooked by dog owners.
Most of the causes of diabetes in dogs are due to hereditary predispositions. If you think that the bloodline of your dog is linked to diabetes, then most likely your dog will also manifest diabetes in later years.
But not all dogs will develop the disease, especially if their diet is well managed by their owners.
What Are The Canine Diabetes Symptoms?

The usual clinical signs that you will see in a dog with diabetes are excessive thirst, excessive urination, and excessive hunger. If the disease remains undiagnosed or when it is left untreated, you will notice an obvious weight loss in the dog as their body breaks down the stored proteins and fats to be used as energy.
If you have a Lab and you think he is suffering from Labrador retriever diabetes, then you should seek advice from your vet as soon as possible since diabetes can cause many complications to different systems of the body such as heart diseases, kidney failure, blood vessel problems, and eye problems.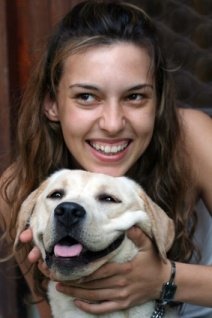 Dog Diabetes Diagnosis

Once you notice that your dog is showing signs of diabetes, you should bring them to a vet at once.  The vet will perform a blood sugar check to determine the level of the dog's sugar in the blood.  If it is above the normal range, the vet may need to take another blood sugar test for three consecutive days before finally ruling in diabetes.

Canine Diabetes Management

Oral hypoglycemic medications that are used by humans to treat diabetes mellitus are found to be ineffective in treating diabetes in dogs. Instead, the treatment of choice is insulin.  Insulin is given by injection through a subcutaneous route.

Diabetes in dogs is managed with insulin injections 1x a day in larger dogs like Labs or 2x per day in smaller dogs. Insulin needs may change over time.
Source: Washington State University

It is also very important to manage a dogs diet properly to lower down their blood sugar levels.  They should not take in too much sweet food and they should be given snacks in between each meal to avoid a sudden drop in their blood sugar level.  There are dog foods sold in pet stores that are intended for diabetes in dogs.

Labrador retriever diabetes can be a deadly disease especially if left untreated.  What dog owners should know is that these dogs can still a live normal life if only given a chance to do so by giving them proper care and management.
Have A Canine Diabetes Related Question for our Veterinarian?
Do you have a question about diabetes in dogs? We'll answer it for FREE! Just fill out this form and our Vet will get back to you as soon as possible.

Please include information such as the sex, medical history, medications, changes in behavior, when symptoms first appeared and anything else you believe would be helpful. Please send a picture so we can get to know your dog.

Questions are answered on a first come, first served basis and may take some time depending on the number we receive. If you have an urgent question, we suggest using this low cost online veterinary question service that has Vets standing by 24 hours a day, 7 days a week.
What Other Visitors Have Asked our Vet about Canine Diabetes Mellitus
Click below to see contributions from other visitors to this page...

Dog Insulin Levels

Reader Question: Dog Diabetes Levels My black lab female 8 years old was diagnosed December 4th with diabetes her levels that day were 660 today …
Related Articles:

More On Labrador Retriever Diabetes

Labrador Health

Seperation Anxiety In Dogs
Canine Diabetes Mellitus Care and Treatment