Get Brand New Labrador Retriever Ebook For Only £2.75
Introducing....
The Labrador Retriever Ebook Guide
Whether you are an experienced Labrador owner, about to bring your Lab home, still looking for the perfect dog or simply in love with the greatest breed of them all then the Labrador Retriever Guide is for you!
Everything A Lab Owner Needs To Know!
Packed with information, hints, tips and advice this labrador retriever ebook is a one -stop owners manual for all Labrador lovers.
From finding a breeder to Lab proofing your home to training your new (or old) dog - everything you need is in this book.
Advice on:
* Where to find the ideal puppy for you and what to look for in a breeder
* Tell tale signs that will tell you that you have found a dog and a friend for life
* How to puppy proof your ome and garden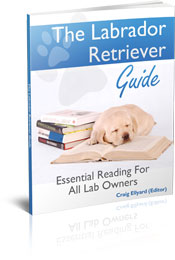 * Great tips and techniques on training your Lab so that you are the pack leader and not the dog!
* How to choose the right dog food and how to make your own for a special treat
* How to keep your Labrador fit and healthy
* Health advice and information on common Labrador issues including hip dysplasia and cancer
* How to look after your dog in her later years
* And so much more !!!!!
Thats the good news! The even better news is that
The Labrador Retriever Ebook Guide costs just £2.75 (approx $4.50)
"Great value for money and very useful ebook" - Francis
"Great information. Excellent" - Kevin
"A very good source of information and advice" - Tia
The book runs to about 80 pages and along with great information contains loads of great new photos of the most adorable Labs ever!
Contents include chapters on choosing your Lab, bringing her home, caring, feeding and training her and looking after her from puppy to senior dog - along with lots of great information on Labrador health and welfare.
Because it is an ebook you can be reading the Labrador Retriever Guide within minutes and the instant download from the Paypal secure servers offers a risk free, and instant, transaction.
You don't have to have a Paypal account to buy and can use any credit card to pay through their secure servers.
You will need Adobe Reader (the latest version is recommended) installed on your computer in order to open and read this ebook.
Most computers have this software already installed but you can also get Adobe Reader here (a new window will open so you can download it without leaving this page).
You will be taken to the ebook download page directly after payment. Download instructions will also be sent to your inbox from the authors personal email address.
Once you have saved the file, locate where you saved it, and double click to open. You can then either read it on screen or print it out to read later.o