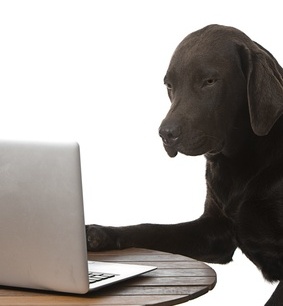 Welcome To The Labrador Review
Lots of exciting news to tell you about this month but first of all may we welcome all our new subscribers to our ever growing community.
Readers Labs
We have been blown away by all the great photos and stories that our readers have sent us about their Labradors. Nearly 100 readers have sent us photos of their dogs and we have loved receiving each and every one. And we would love to receive more.

If you haven't already please send us some photos of your Labs and a little bit of information about them. We know that visitors to the website enjoy looking at the photos as the pages receive thousands of hits every month.

Make your Lab an internet star. Share your Labrador pictures and stories for others to enjoy by clicking here - we can't wait to hear from you!


New Products Feature: Outdoor Dog Gear
Here's the gear to take with you when out throwing a Frisbee with your dog or for those long outdoor walks:

Water Repellent Muttlucks - Keep your dog dry this spring and summer. This rain suit from Muttlucks is water repellent, and easily slips on your dog. It comes in several sizes and is perfect for rainy or wet days.


Dog Life Jacket - Don't leave your dog unprotected when swimming in the water or when traveling by boat. The Kurgo Surf n Turf dog life jacket includes a flotation liner and handles to make it easy to control.


Doggy Goggles - Yes, protective eyeware for your dog is just as important as outdoor eyeware for people. Dog sunglasses filter out UV rays and provide protection from dust and grass. Learn more.


Dog Collar Light and Reflective Safety Collar - Taking your dog out after dark? Let your dog light the way with the Pup-Light. 3 LED bulbs will light 200 feet in front of your dog. The light combined with a reflective collar provides an extra level of protection.

A Water Bottle Just for Dogs - It is important to keep a dog hydrated when outdoors. If you are like us and fumble with plastic water bottles or human bottles, then this bottle is for you. This water bottle from H204K9 is designed to make it easy for dogs to take a drink right from the specially designed cap.
New Feature: Exclusive Savings For Our Readers from Top Pet Retailers
PetSmart
Spring into May Savings Sale! Save up to 25% on thousands of items at PetSmart.com!
Petco
20% Off Entire Site and
$7 off your order of $70!
Pet Alive
Exclusive Savings on Best Selling Pet Alive Homeopathic Products
Click Here and Save 15% with Offer Code SHARE15P
New Feature: Reader Dog Health Questions and Suggestions from our Vet
Every month we invite our readers to ask our Vet a dog health or behavior question. Ask your question here and we'll answer it for FREE. Plus you'll be helping other readers that read the question and answer.

We can't respond right away, so if you have an urgent question call your Vet or try this highly recommended online veterinary service that has Vets standing by 24 hours a day, 7 days a week.
Read these reader questions and Vet Responses
Reader Question: How do you know when it is safe to reunite your dogs after her first season?
Vet Response: Oftentimes a female dog's first heat is erratic. They can even undergo what is called a split heat, developing signs of estrus (swollen vulva, etc.) but they do not ovulate and go out of heat. Read More.
Reader Question: Why does my Yellow Lab sometimes have slight bleeding on the top of her nose?
Vet Response: I can't diagnose your dog without first performing a physical exam, but one condition that comes to mind is discoid lupus erythematosis (DLE). Read More
These questions and Veterinarian suggestions are from our sister site, the Dog Health Guide.
Cause and Treatment of Scaly and Black Dog Skin Bumps
Recognizing Signs of Sudden Dog Deafness
All About Dog Hyperkeratoisis and Distemper
What to do When You See Dog Bloody Diarrhea
Ask your own dog health question here.
And Finally
Springtime Pet Tips
The air is getting warmer, the sun is brighter and the lure of the outdoors is calling our pets. Here's our top tips for keeping your pet safe:

1. Time to Spay and Neuter: If you haven't done so already, there are many benefits to spaying and neutering pets. Sterilization surfer reduces pet overpopulation and often makes animals easier to live with.
The procedure eliminates their urge to urinate on furniture and other objects, and keeps them from roaming in times of peak fertility.

2. Parasite Prevention: Spring means ticks in some part of the country. When the weather warms, and the grass grows, it's time to prevent ticks, especially if your pet visits grassy areas.

3. Do not feed newborn wild animals: Contrary to popular belief, animals will not abandon their babies when they smell a human scent. It is perfectly natural for some animals such as rabbits to leave babies alone for hours at a time. Do not feed these newborns, since if you don't give them the right food, you could be creating more harm than good.

4. Seasonal Allergies: Unlike humans, pets show signs of allergy on their skin. If you see coat licking or hot spots, head shaking and scratching, then consider allergies as a possible cause.

5. Pet Identification: Get your pet permanently identified with a microchip. They are the size of a grain of rice and are inserted under the skin. Tags can get lost, but microchips are forever.
Lyme Disease is Growing Fast
Canine Lyme disease is no longer just a threat to dogs in the Northeast or North-Central U.S. (often called "endemic areas"). Lyme disease is growing fast -- infected dogs have been found in all 48 contiguous states.1 In many states, infection is not likely, but dogs living or traveling in the endemic areas and the growing expansion areas are at risk.

Growing geographic risks
Lyme disease is one of the fastest-growing diseases in the U.S. A dog's risk level depends on where he lives, his overall health and his lifestyle, such as whether he travels a lot or goes hunting.

Dogs are at risk -- regardless of breed
When any dog comes in close contact with infected ticks -- usually in wildlife areas where mice and deer live -- the risk of exposure to Lyme disease is present. Plus, nearly 75% of unvaccinated dogs in endemic areas will eventually test positive.

Smart -- and easy -- protection techniques
Canine Lyme disease is largely preventable with vaccination, tick control products and frequent tick checks.

To Learn More about Lyme Disease Click Here


Many thanks for reading and continuing to support our website

Jeff & Cathy Contact us by email