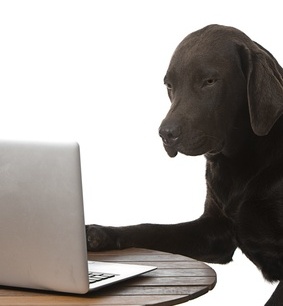 Welcome to the latest edition of the Labrador Review.
First of all, profuse apologies for not being in touch for soooo long. We have had numerous problems with email (or at least email has had numerous problems with us!) so apologies if you have been in touch and we haven't replied. Hopefully everything is running smoothly now!
Lads are still as popular as ever
The American Kennel Club has said that for the 20th-straight year, the Labrador retriever is the most popular breed of dog in America. I believe that is mirrored in the UK as well and I don't suppose it will come as a surprise to any of us who own and love Labradors.
It is also reassuring to know that labs are still the dog of choice for genuine dog lovers despite the mountains of publicity that seems to surround so called 'celebrities' and their handbag dogs. But why are Labs so popular.
I'm sure that I could fill this newsletter with reasons why Labradors are so loved but I think the main reason is the friendship and companionship that a lab will provide. And, for a wonderful, feel-good story that shows this, have a look at this article I found recently on the Internet...
Readers Labs
Thank you to everyone who has shared with us photos and stories of their Labradors. Seeing and hearing about these dogs is a real joy. If you would like to show your lab to the world please follow this link

https://www.labrador-retriever-guide.com/labradorretrieverpictures.html

Some new additions to our doggie hall of fame are:
A Dogs Prayer
Submitted by one of our wonderful readers this poem is really special:

For those of you who like to read poems and verses about our best friends you may like to visit our dogs verse site:
Treats
A Labrador enjoys nothing more than a delicious treat. Or, if your dog is a canine dustbin like our youngest Lab Pippa Fourpaws, any treat delicious or not will do.

Pippa, like all labs I suspect, is particularly partial to cheese. Next on her list would be bacon so the cheese & bacon biscuits recipe kindly sent to us by Jean was right up her street.

If you want to rustle up a treat for your dog here is jean's recipe:

Here's what you'll need:

¾ Cup flour, whole-wheat ½ Teaspoon baking soda ½ Teaspoon salt 1 Stick softened margarine 2/3 Cup brown sugar 1 Egg, beaten 1 ½ Teaspoons of vanilla 1 ½ Cups uncooked oats 1 Cup cheddar cheese, shredded 2/3 Cup wheat germ ½ Pound of bacon cooked very crisp and then drained and crumbled.

Mix together flour, soda, and salt and set aside. Cream sugar and butter; whip egg and vanilla into the mixture.

Add dry mixture, stirring well. Mix in the rest of the ingredients.

Drop rounded teaspoons of dough onto an un-greased baking pan.

Bake at 350 for 16 minutes. Allow to cool on baking pan for a minute, and then remove to cooling rack.
Recent Updates To The Website
We are trying to add at least one article or page to the site every week and the latest include:

(NB: If have opted to receive the non-HTML version of the newsletter you may need to copy and paste the link into your browser)



Labrador Hip Scoring

The British Labrador

Black Labrador Training
And Finally
Finally

Many thanks for reading and continuing to support our website

Craig & Lynn Contact us by email