Remy is the head of household.
by Al
(Wisconsin)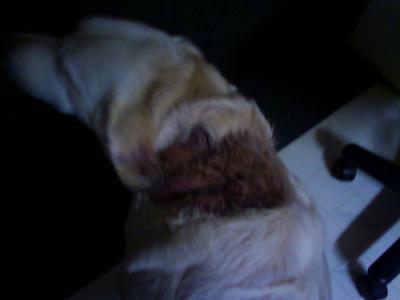 Remy needs help
CAN ANYONE HELP?


We got Rem (Remington)when she was about 7 weeks old, born around Thanksgiving in 2001.
We went to look at a litter of pups and the litter had all three colors so we let the dog pick us. Lucky winner (for her) was a yellow but basically white with only a touch of yellow on tips of ears and tip of tail.
CAN ANY HELP US,WE HAVE HAD FOUR VETS LOOK AT HER and have tried all their suggestions with no luck, of course we love her like you all love yours and try to do most anything for them. Rem has developed a terrible scratching problem between her shoulders resulting in hardly no hair and bad bleeding (started a couple of years ago then finally went away) then came back again worse with her ears also being affected. Some hair has grown back but still looks bad and skin is like leather and some hard spots.
Also there are other places on her that the hair grows in strange directions like instead of flowing back a spot may stick out and grow kinda straight out and forward. I will try and post a picture. She has of course been checked and treated for all the common problems, flea's, food allergies,etc.
Looking for any other ideas. e-mail is captain_001@live.com, Al, Monica and Remy