Bonnie the Black Labrador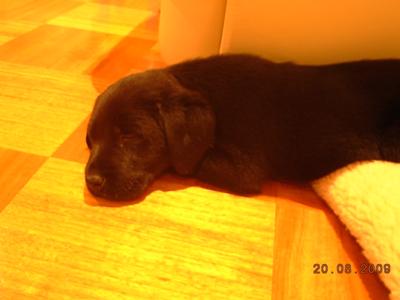 First photo of Bonnie
This is Bonnie our Black Labrador. She is one and a half. In the first three photos she is still a puppy and the last one was more recentr.


We got her from a pet shop and she was the only lab there we fell in love with her the second we saw her and brought her home ASAP. She was 7 and a half weeks then and is now a full grown dog.
She does this hilarios commando crawl thing (what's up with that?). She has a park right on her doorstep that she likes to run and play in off leash (what a lucky dog).
We have never met a more young and calm dog she is quite and only barks once when there is a stranger around and when she has gotten herself into trouble (e.x getting stuck in the garage she once slept there in the dark) we love her for being so calm and playful at the same time. She loves toys but she often eats half the toys we buy her because she has very strong white teeth.
She is definetly mischefous and likes to get mouth around anything that fits. She is a natural swimmer and is very strong in the water. She also loves jumping hurdles and playing soccer. We would love some healthy snack ideas as she is a little on the heavy side.
We have never met a more wonderful and beautiful animal. What a typical Labrador Retriever!!