Brady the One Eyed Dog
by Kate
(Minnesota )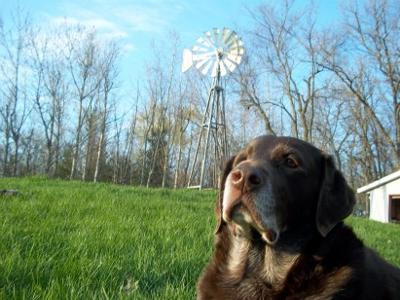 Brady enjoying the summer sun
We got Brady from our local no kill animal shelter at around 3 years old, after his previous adopter could not keep him anymore.


Brady was found roaming the streets with a severely infected eye. Soon after they took him to get examined, they discovered the reason why.
Brady was shot with a bird gun near his right eye. It was so infected that they couldn't save it. After hearing his story we could not resist taking him in.
Brady settled into life at our home pretty well. He had no health issues until about 1 year later when he got bladder stones.
The surgery to get him back to normal was life threatening, but we knew he would die if we didn't treat him soon. Brady was a fighter and luckily he survived his operation. After that he lived a life of nail painting, dress up, and swimming.
Brady is now at the ripe old age of 11. He shares his life with our cat Miss B., 15 chickens, and our 2 year old cockapoo Milly, who never leaves his side. Brady will forever live in our hearts.