Buddy Chance
by Jody Hanning
(Indianapolis, Indiana)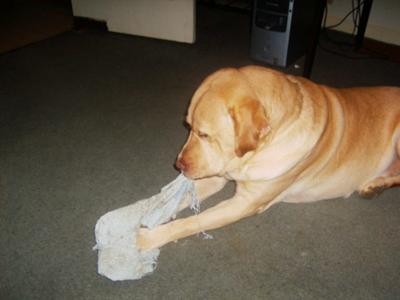 He loved chewing on that towel
We found our dog through a friend who does animal resuce. The day we picked him up, we were shocked at his size, but we took him home anyway.


Shortly after we took him in for a check up and other than being a big dog we found out that he had been abused at some point. He had what looked like battle scars as well. It was sad to think that someone could have been mean and didn't care about this beautiful creature!
We named him Buddy Chance..Because of a friend we found a new buddy and it was by Chance that we found him! It seemed very appropriate. He has been with us for almost 3 yrs now and I could not imagine one day with out him.
My nickname for him is Turkeybutt..and he knows it very well! If he is laying down I can whisper "turkeybutt" and his tail will start thumping the ground...he KNOWS that he's momma's turkeybutt! I have always been a dog lover and since finding Chance, he's made our family complete!