Champ is Champ in our house
by Barb
(Illinois)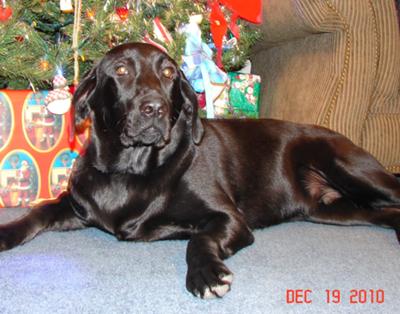 Wise Old Dog
After three years of begging and pleading, we finally agreed to let the kids get a puppy. The choice was easy...they wanted a black lab.


Mom and Dad were a little hesitant because we never had an indoor dog before and we knew labs were high energy. The agreement was that everyone would help out...the kids needed to vacuum, Dad would sweep the floors....everyone needed to take him out when he needed to go....and of course, everyone would love him and play with him. We all mastered the love him and play with him....but it seems Mom does the vacuuming, sweeping, feeding, and taking him out....although Dad really likes taking him for walks.
The kids, who play sports, are glad that he likes to play ball....he'll retrieve a football, baseball, or tennis ball for hours. We love when he drops the ball in front of you and runs a few feet out to get in what we call "alligator position"...he crouches so low to the ground he reminds you of an alligator just surfacing the water...waiting for us to throw or kick the ball...head tilted and ears up.
We got him at 8 weeks. At Christmas he was 8 months. He's been through two different levels of obedience classes, but I still think he has a will of his own that can only be broken by food. He is highly food motivated and carries a 'treat ball' around with hopes that he might get lucky.
Needless to say, he's a big part of our family. Just this week one of the kids had to draw a family picture for art class....you can only guess who took center stage while the rest of us were just add ons in the background.
The attached picture is what we call 'wise old dog'...although only 8 months, he looks like he has years of knowledge.