Dudley and Gretel
by Pam
(Australia)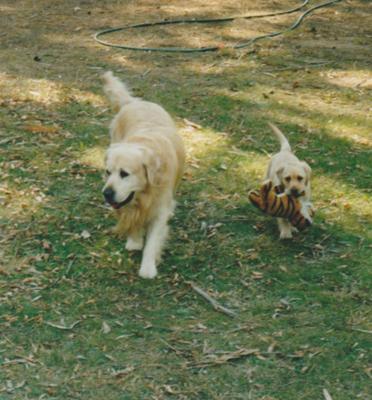 Dudley takes Gretel, and friend, for a walk.
My love affair with labs began when I was 15 years old and I brought home my first puppy. It was torture every day when I had to leave for school and say goodbye to her!


During my final exams and later university exams, she would sit under the desk while I studied and sleep on my feet!
I will always remember the great comfort of her companionship during those times, when her steady, loyal energy seemed to penetrate my mood and mindset, and prevented me from having any exam meltdowns!
I called her Gretel - I don't know why, and later when I got my first car, a VW "bug" I called him Hansel. I have a lot of wonderful memories of heading out for a day of fun - Hansel, Gretel and me.
Gretel lived a long, healthy life, her only problem being some deafness in her old age. She died peacefully at home - just before the vet arrived. She was almost 16 years old.
For the next few years I devoted myself to my Burmese cats (the cat equivalent of a labrador in my opinion.)
All the family said the same thing, that Gretel was a once-in-a-lifetime dog, how could we get another pup who could only live in her shadow.
Years went by, I married and moved to the country and when our son was nearly five he began to ask for a puppy.
We found a lovely chunky boy who was a golden retriever pup and it was love at first sight. My son cuddled him all the way home in the car and when we pulled into the drive he said "Mum, what's his name?" I looked into his little face and asked him the question. The name "Dudley" came into my mind and I have no
idea where I got that from, but I was amazed to find years later that the original founder of the breed was a Lord Dudley.
Dudley was a loving companion to all our family and when we brought our second baby son home from hospital, the first thing we did was present him to Dudley for inspection.
I remember he sat very respectfully without being asked and I held my baby in front of him. His nose was operating at full intensity and after all the sniffing he gently nuzzled one little bootee and the bond was formed. It was a beautiful moment.
When our second son was 7 he asked for a puppy of his own. My husband said "We already have a dog, son."
I understood what my young son meant though - I believe that every child should have the experience of a puppy and all that goes with it and so, at last, we went looking for a new lab.
My mother was eager to help out and offered to pay for the puppy if we would agree to call her Gretel. I had my reservations about that, but it meant a lot to my parents to memorialise Gretel 1, not to replace her. With this way of looking at it, we brought home Gretel 2.
It took a mere 24 hours before Dudley was putty in her paws and there began a wonderful new set of human and canine relationships.
Dudley taught her the household rules and he loved her and nurtured her until he passed away at 14 years of age. I'll have some more on Gretel 2 at a later time.
For now I'd like to share a favourite photo of Dud taking Gretel for a walk and, like all little girls, she wasn't going without her favourite toy!