Dudley named "Crystal Dynasty"
by Debra Amos
(Moulton, Alabama)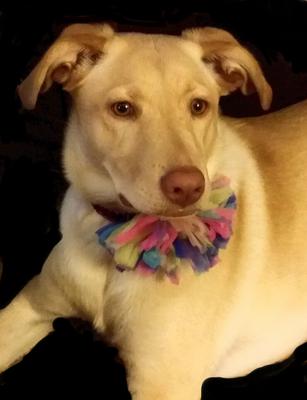 Most recent photo of Dynasty
Dynasty came to us in the most unusual way. My fiance and I are cofounders of a non-profit organization that we founded after the loss of our beloved pet Susie. We lost her at age 19 to kidney failure.


One month following the loss of Susie, less than a half mile from our home, a "stray" appeared from out of nowhere at the local Chevron. She would not allow anyone to approach her, but became a local favorite enjoying treats and snacks alike. She mated with a Chocolate Lab from the neighborhood. Myself, along with two other ladies rescued the puppies within hours of their birth and managed to coax the mother into a crate.
I immediately fell in love with the only female and the one that was "pink"! I was concerned that she could be albino, having never seen a "Dudley" before. But, I knew she was special. Although my fiance, still grieving, would not even discuss getting another dog, he fell for her immediately as well.
She has gone from crystal blue eyes to amber eyes and at 7 months old, she is still "pink" everywhere. She has pink eyelids, a pink nose, pink lips and even her paw pads are pink. Her name is derived from my fiance's alma Mater, the University of Alabama and their dominance in NCAA football. They are known as a "Crystal Dynasty" because of their 15 National Championships.
Dynasty has since become the Junior Ambassador Dog for the Foundation. She has won numerous photo contest, stars in her own Facebook comic strip, been on TV and in syndicated print for "pet of the week" February 15, 2014, in Hints from Heloise.
She is an awesome dog! She is smart and funny. And, unbelievably has many characteristics of our Susie. We sometimes look at her and say,..."Susie, are you in there somewhere?"...
Thanks,
Debra Amos
Incorporater/cofounder
The Lil' Susie Small animals in Need Fund Foundation
www.lilsusiefund.org
Find and like us on Facebook