Heidi
by Cindy
(Canada )
Hi there i have a 4 month old black lab her owner couldn't take good care of her so she gave her to me she is very sweet loveing and know's NO/sit/down/stay/come we love her very much she love's playing with tucker my other lab here is a pic of her
My l;ab
by Abhishek
(West Bwngal)
Hello,

My lab is now 14 months old. i want to mate her.i have a male lab who is 5 ears old .is their mating possible ? which priecuation should take ? what type of diet will give her? her health is ok and it will be the first mating of her.
Mia and Tessa
by Chantel
(cape town)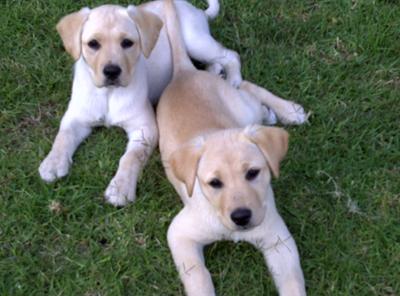 Mia and Tessa
Hi in these photos are the two most best things that happen in my life!

Mia and Tessa my two labrador pups are now almost 4 months cant believe how fast they grow.

They also developed their personalities now cant believe how different they are!Mia loves humans and other dogs she is always friendly but has a mind of her own!

Tessa loves to bark and give out kisses and also food!We took them to the beach for the firs time and they loved it ran into the waves!

The only problem im scared of is cause they are two that they dont listen and play rough with each other is that normal?

When you touch one the other one wil try to come in between!They are so special they nmake me so happy!
My wonderful Kia
by Laurie Allen
(Charles Town, WV)
Miss Kia is just a sweetheart, mischievous and rotten. LOL We need to work on some re-training now that we've adopted a 2nd dog. She's exhibiting all sorts of new irritating behaviors! But we love her!
Join in and write your own page! It's easy to do. How? Simply click here to return to Labrador Retriever Pictures And Stories.
Gracie
by Wanda
(Newport,Mich)
We got our Gracie @ 8wks and she is now going on 4 months.

What a ball of energy. she can sit, stay, lay down,fetch and come. So very smart she is as all labs are.

I was reading up on Dudleys and I think we have one, not real sure but she has the most beautiful eyes.Very different.

I would appreciate any info you can give me.
Hemi the Dozer
by Lindsey
(Idaho Falls, ID)
Hemi is such a polite lady... yeah right!

Hemi's nickname is Dozer because she just bulldozes into everything!

She is a sweet dog that just loves to play and play!

We recently adopted another dog to be a "friend" for her, and realized how much we love our Hemi girl (the adopted dog no longer lives with us)!

She is quite indpendent and doesn't listen when she's out exploring, but she's still obedient and kind. She tried and tried to get the new dog to play- sharing her toys and her bed with her (she actually put her toys on the other dog to share) and stalking her in the yard.

My husband hates dogs and it took a lot of begging to get Hemi.

My sister was the breeder so my husband saw the pups born and everything. (I actually think Hemi had him wrapped around her paw before we even took her home.)

She was not to ever come in the house, I had to feed her every day, he would never kiss me again if she ever licked my face, etc. He was not to have anything to do with MY dog. Well, she began sleeping in the house three months later, then sleeping in our room! And, when she was drooling beyong belief after a six mile run she slimed his shirt (sitting on the back of the 4-wheeler) and he said, "ah, a little slober- I can handle that." She follows him around all day, he burys his feet under her when he's cold. I was told that if she was bad dog we would never have another one.

I am so grateful we were blessed with Hemi (who he wanted to name Cummins or Powerstroke!)!
Join in and write your own page! It's easy to do. How? Simply click here to return to Labrador Retriever Pictures And Stories.
Join in and write your own page! It's easy to do. How? Simply click here to return to Labrador Retriever Pictures And Stories.
Kimba
by Samuel & Monica
(San Salvador, El Salvador)
We have a 4 months old Lab who just started obedience training and later will join a club for special children and elder assistance.
Bella
by Roger & Chelly
(Mesa)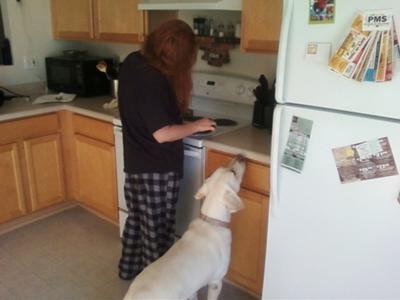 Is that really Bacon?
A close friend of ours got her as a puppy, and loved her very much. However they found themselves unable to care for her any longer and were looking for someone that would love and care for her.

My wife and I have wanted a dog for a long time, but lived in a townhouse, with no yard. We recently moved into a home with a great yard, and had been kind of looking for just the right dog for us.

When we heard about Bella, we decided to go meet her, and figured we would just see "How it went" and decide later. The look in my wife's eyes when Bella ran up and sat down right in front of her told me emediately that we had a new family member.

That meeting was last night, and she came home with us after a twenty minute meeting and a pleading glance from my wife. Bella is the sweetest thing, and has absolutely made herself at home in our house and in our hearts.

She is only two, and although I was a K9 handler in the army years ago, this is the first time either of us has owned a large dog. We have a lot to learn, all three of us. But it promises to be a great adventure.

I am really glad to have found this website, I'm sure you all have a lot to teach us.
Lilly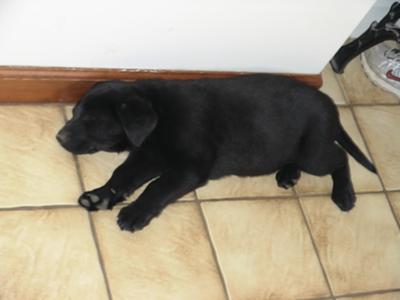 Lilly when we first got her.
Lilly is our 10 month old black lab. My husband's coworker's yellow lab surprisingly got pregnant and had a bountiful litter of pups.

Lilly was not our original pick because the one we chose was given to another family. However, it was meant to be. She is the most delightful dog ever!

Others in our neighborhood enjoy her and even invite her into their house. She is very loving and affectionate with our children and they absolutely adore her. They are so excited to get home and give Lilla Bug a big cuddle.

We couldn't have been given a better dog!
Join in and write your own page! It's easy to do. How? Simply click here to return to Labrador Retriever Pictures And Stories.
Sophie
by Ian Cochrane
(Adelaide South Australia Australia)
We got our beautiful girl 2 weeks ago and we couldnt be more happy.

Havent got a photo yet but will soon.Shes a Golden Lab and her name is SOPHIE.

My grandchildren love her.
Darcy
by Craig Ellyard
(Hull, UK)
Darcy was our first Labrador and she came to us as we were voluntary puppy parents for the Canine Partners charity.

Darcy spent a wonderful year with us before leaving for her advanced training but she left us with so many happy memories. I've included below a couple of entires from the blog I wrote about Darcy and her time with us:

We all have routines and Darcy is no exception and her typical day is quite structured. It begins at around 6am.

Lynn (mum always gets up first!) lets Darcy out of her sleeping crate (or wire cage) and then out of the house. She (Darcy not Lynn) then runs down to the bottom of the garden to perform the necessary before going back into her crate for breakfast.

After breakfast Darcy settles down for a cuddle for all of two minutes before dragging out all her toys one by one and insisting Lynn plays whilst trying to drink her morning coffee (Lynn not Darcy).

A mad half-hour then ensues before Leonie gets up at 7am. After being jumped on by Darcy, who always greets everyone with a cuddle and slobbering kiss, Leonie tries to eat her own breakfast whilst Darcy insists on snuggling up to her on the sofa.

At 7.30 its time to wake Craig – and Darcy is far more effective than an alarm clock. Believe me, a loopy Labrador jumping and slobbering all over you really does wake you up.

8am and it's time for Darcy's first walk of the day as she escorts Leonie to catch her morning bus to college.

After returning home Darcy will again drag all her toys out whilst also trying to hitch a ride on the vacumn as Lynn tries to do the housework.

10am is the time for her second walk of the day with another long walk at 2pm. Sometimes Darcy and Craig will wander off at 5pm to meet Leonie's bus from college.

After her evening meal Darcy will have another play ( her favourite game is chase and fetch the toy) before a training session with Leonie. Leonie is soon to become a junior trainer with Canine Partners and she is doing a great job with Darcy.

After 9pm is Darcy's quiet time – usually spent curled up asleep on the sofa whilst Craig and Lynn watch TV. Darcy sleeps in her crate and she usually goes to bed at around 11.30pm (unless there is a good late film on telly) when she curls up with her favourite soft toy and Craig on the sofa.

Time to introduce another member of the family. Pugsley is a chinchilla who is around 12 years old. Having spent all his life with Gadget and Scrumpy (our dog and cat who both passed away in 2006), Pugsley is well used to 'giant' four legged animals wandering around the house.

Pugsley lives in a converted dog crate, in fact with Darcy's crate also being in the same room, our house is like a mini zoo.

And the chinchilla is an endless source of fascination for Darcy.

She likes nothing more than sniffing around Pugsley's crate and chinchilla and puppy are often to be found rubbing noses through the wire of the crate. Pugsley also delights in throwing morsels of his food through the holes in the wire to Darcy who seems to have developed a taste for seeds and dried fruit.

But Pugsley and Darcy's relationship recently reached new heights.

Now, Pugsley has always been an expert escape artist, and 'security' has been steadily stepped up to the point where we thought that there was no way he could get out of his crate. But we reckoned without him receiving outside help from Agent Darcy.

Puppy and chinchilla had had their usual play but we hadn't noticed that Darcy had chewed throught he plastic ties securing the wire around Pugsley's crate.

When Lynn got up in the morning she found that a mini furry typhoon had swept through the living room. The chewed wallpaper, hole in the back of the sofa and knocked over lamps were the usual tell-tale signs that Pugsley was the loose.

The problem was - there was no sign whatsoever of Pugsley until Lynn, in exasperation, looked in Darcy's crate. And there, curled up in a corner snuggled up to a barnpot Labrador, was Pugsley - obviously shattered from playing chase with Darcy all night.

The two are best of friends but now we always keep an eye on Darcy when she is near Pugsley's crate – we don't want another jail break.

Join in and write your own page! It's easy to do. How? Simply click here to return to Labrador Retriever Pictures And Stories.