Do You Think Homemade Dog Food Best for your Dog?
The debate between commercial and homemade dog food continues to rage with supporters in both camps.
There are plenty of families now that own a dog or two and many of them are active, playful, and healthy.
This is because dog owners regularly give attention to their precious pets and feed them balanced diets that can lead to better health and extended lifespan.
If you own a dog yourself or plan to get one, maybe you'll end up wondering just how these dogs manage to eat so well?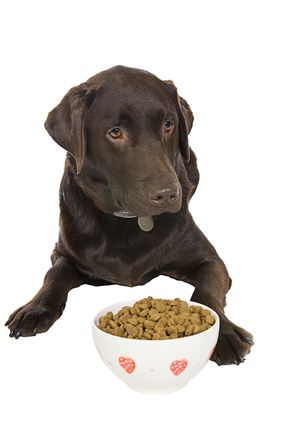 The Problems Of Commercial Dog Food
If you tune into the television, you may come across some captivating dog commercials that advertise premium food products that will give your dog the nutrition that it deserves.
Some of these commercials are well played out and actually convince tons of dog owners in getting the products that these premium brands sell and see if it lives up to the hype.
Commercial dog food have their fair share of success stories, but many of the best brands are just too expensive, while the other cheaper products can pose health risks to dogs and may even shorten their lifespan. Many cases of dog deaths are said to be linked to some of these pre-packaged foods that are sold in stores.
Although the best dog food brands strive for quality in giving your dog the most balanced nutrients, all of them fall a bit short by depending on additives and preservatives that can have negative effects on your dog.
Homemade Dog Food As The Best Alternative
By preparing your own dog food you can not only balance the nutrition your dog receives, but also prevent your dog from suffering from harmful chemicals and ingredients that are found in many commercially made products. Food produced at home can be the best choice for your dogs if they are prepared the right away.
What You Should Know Before Preparing Food For Your Dog
Making dog food is all about natural ingredients and the right amounts for each serving. Giving your dog a balanced diet relies on pretty much the same basic concepts as preparing a balanced diet for yourself. However, it is important to know what foods your dog shouldn't and what foods they should eat.
If youíre unsure on what to prepare your dog, it is better to stick with commercial dog foods for the meantime until you get your ingredients straightened out.
Feeding your dog random foods may seem all right especially if your dog wilfully eats it and finishes it, but could lead to some sickness and weakness. Commercial dog food is a better temporary option in this case since you know that the nutrients are prepared and specially formulated for your dog. Just try not to overdo it and learn how to prepare your own foods for the long run.
Homemade dog foods aren't that difficult to prepare though they are time consuming. Spend some time to learn what foods are good for your dog so you can gradually substitute your commercial products with cheaper and healthier alternatives.
Once you master your recipes, it becomes safe to say that homemade dog foods are the best choices for your dog's health.
Related Articles
Homemade Dog Food Treats 

Dog Food And Nutrition 

Diabetic Dog Food