Lady Baileys Irish Cream aka "BooBoo"
by todd
(Bend,Oregon)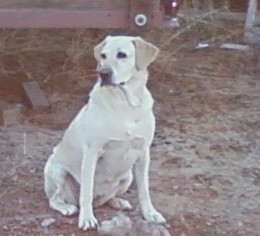 Bailey
What can I say "shes a Brat" But we love her so much!


The breeder sold her to us cheap because he said "she wouldn't be a show quality and her head will be small"
Well a Dozen Blue ribbons later and a very good looking dog to boot. We just have to stick out our tongues and say Thanks.
We wouldn't trade her for anything.
At 5yrs shes the youngest Lab we own.Madie (blk)11yrs,Bubba (choc)9yrs,Bailey(ylw)5yrs. Were just a lab family for sure.