Lola and Kali the little Labbies
by Kezia
(Yorkshire- UK)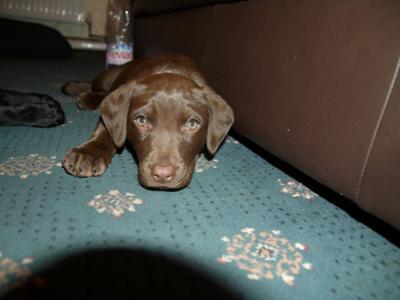 Lola the Lab is a chocolate girly with big ears and a big personality. She loves to run, and run, and run!


Rescued as a 5 week old pup from being drowned, with her black sister- we have nurtured and loved them like babies!
Kali the black lab is a funny looking wee thing, funny ears and a crooked tail where it had been trapped in the barn door at a few days old (seeing as though the farmer wasnt keeping them long, doubt he was bothered!)
Having turned a year old this month, they celebrated with new collars and some new toys!
Both parents are pedigree, slender working labs, farm bred and rather slim line in comparison to their american counter parts!!
Amazing pups, who have overcome so much hardship in the first five weeks of live, they have come on in leaps and bounds (Literally!) and are much loved members of the Handley household!
Best thing I ever did, letting these two monsters enter my heart so deeply :-D