Murphy and Bess
by Kate Parsons
(Wales)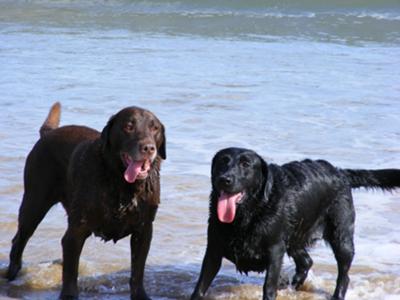 at the beach
Murphy is a 9 year old chocolate lab - full of mischief.


I have never come across a dog that is so instinctively in tune with its owner - I swear sometime he can read my mind!
He is definitely a clown from chasing across the golf course to sticking his head in the washing machine and pulling out the socks - he is always up to something. I can't imagine life without him
Bess is the quiet one - she watches everything - we bought her thinking she was a pedigree lab but I believe there is some spaniel in her - which doesn't matter to us because she is well loved.
We got Bess as a companion for Murphy and the two are inseparable - although Murphy is the older and bigger dog - Bess is boss and let's everyone know it!
Whenever we take the dogs for a walk we always say that Bess covers twice the distance that anyone else does as she runs constantly between Murphy and us and her tail has a life of its own it never stops wagging!!