Only loving homes for us! 2 black labs,1 brindle
by Julie S
(Houston, TX, Far Northwest)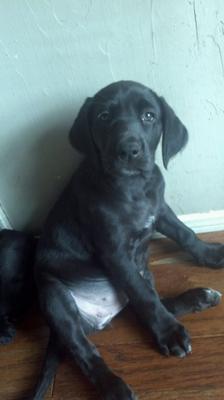 8 week old 2 black lab puppies (1 M, 1 F) 1 yellow brindle. (1 F)


We are looking for great homes with lots of playtime, and time for us to give you big kisses and unconditional love! We are 8 weeks today 7/20/11.
Our mommy is a black lab and daddy a yellow dudley lab. Neither like to DIG! Daddy loves to chase balls and frisbees. Mommy is very relaxed and just likes to lounge and love. We are completely potty trained for our lil doggie doos and have been since 4 WEEKS.
Our little bladders are still trying and we do know what to do outside and we always do. Just sometimes the water gets even the best of us!
Our "real family" love us dearly but we were a big litter. 8 of us. We would love to keep in touch with a picture from time to time if possible. Although we love to grab a shoe, we are learning the word no very gently. Our adorable gaze make that hard, but we are learning our manners from a young age. You cannot put a price on our love, but we are asking $50 each.
This is hard for our loving family because we are priceless in their eyes. Can you tell how much we are already loved? We love kids, love sticks, and just have well-rounded personalities. Our momma has tears just typing this out. So please, only serious calls from loving homes. 281-974-9755. We are located in far Northwest Houston around the Tomball and Woodlands area.