The Labs of Aloha
by Brian Setty
(Kauai)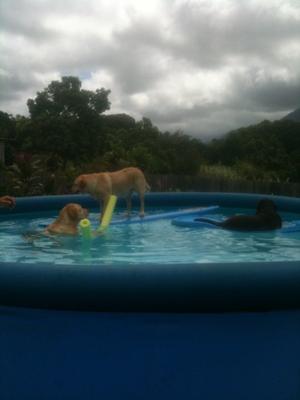 The two that are on the sides are mine.


Kai the yellow lab and Nula the chocolate lab and the one on the surfboard is Sava the surfing dog.
She belongs to my friend Bill Hamilton the surfboard shaper. You can watch Bill and Sava surf on youtube under Bill Hamilton and Sava the surfing dog, it's an incredible video.
Eukanuba did a 28 day challenge of them on the 2011 AKC dog show it's on youtube too.
I love your page and hope it continues to grow.
Aloha,
Brian
Join in and write your own page! It's easy to do. How? Simply click here to return to Labrador Retriever Pictures And Stories.