Get 
Names for Dogs
Can I call you "Arf?"
Thinking of appropriate names for dogs is an enjoyable part of bringing a new puppy into your home.
Quick Links to Names for Dogs:
You know the scenario:
The day has finally arrived- your cute little bundle of joy can now come home with you. You are probably at a loss for words as you carefully bring the cuteness out from the car, making sure that you don't hurt the little one unknowingly.
As you put him down gently on your bed, you stare into his eyes and carefully touch his wet nose.
Then inevitably, a million possible names for dogs come into your mind and you cannot decide which would suit your new puppy best.
Not unlike choosing a name for babies, deciding on names for dogs and puppies is crucial.
Keep in mind that the name you pick will be forever. All your family and friends will have to remember your lovable pet by that moniker for the rest of its dog years. Because of that, you would want to make sure that you name your puppy appropriately.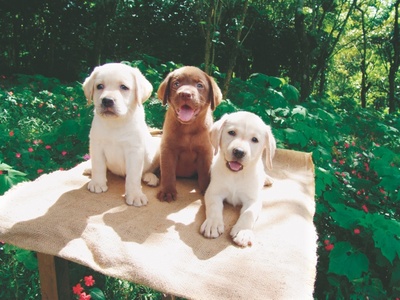 One of the things you have to consider when selecting names for dogs is how the name would sound to your dog.
A dog does not answer to the meaning of human words but to the sound the word makes. For instance, a name like "Saul" rhymes with "roll" and you would not want your dog to roll on the floor every time somebody calls him (although it would be quite cute).
In the same manner, a name like "Bill" dangerously sounds close to "kill" and we would not want that now, would we?
Communicating with your canine companion is important, so confusion with names and commands is a no-no.
First rule of thumb in the name game: steer clear of names that sound like commands you will be teaching your pet.
A second smart piece of advice is do not rhyme your names for dogs to any other name in your abode. If your boyfriend's name is Zack, it would be best to not name your pet canine "Jack." It might be sweet to always have a reminder of your loved one so close by but it will get confusing at some point.
A shouting match between you and your beloved, for example, might be painful for your dog. Jack might think you were mad at him instead of at Zack because the names sound alike.
If you have any other animals in the house that might have the same-sounding name, the confusion thickens, both for you, and all the other animals.
Second rule when choosing names for dogs: be unique. Each animal, like humans, have different traits and even personality, so give your canine a name that is truly his own.
A really long name is a no-no when thinking of names for dogs. Something like "Nathaniel" is lengthy and your pet may find it harder to remember that short, one or two-syllabic names. The way the name sounds can also help your pet recognize his name easier.
In the English alphabet, each consonant can either be classified into soft and hard sounds. Since dogs have very sensitive ears, they would easily respond to names that have hard sounds.
Letters that need a lot of air to pronounce like "s" or "f" should at least be coupled with a harder sounding consonant and long vowel sounds, such as "Betsy" or "Dyno."
Last but not the least, names for dogs should be carefully chosen according to how you think of your pet. Certainly, you see your pet growing into old age with you because it is already part of your family as soon as you adopted it.
Give it a name that both you and your canine beloved would grow accustomed to and cherish for the rest of your lives.
Dog Names for Girls
Abigail
Adelaide
Adrian
Agnes
Alison
Aileen
Angel
Ann
Anna
Annie
Barbara
Beatrice
Belinda
Bella
Caroline
Carolyn
Catherine
Charlotte
Cheryl
Christine
Daphne
Diana
Dolores
Donna
Doreen
Dorothy
Eileen
Elizabeth
Elspeth
Emily
Emma
Esther
Fiona
Francesca
Gabrielle
Gail
Gwen
Harriet
Heather
Helen
Helena
Henrietta
Hilda
Isabel
Jane
Janie
Janis
Jenny
Jo
Joan
Josie
Judy
Julia
Julie
June

Karen
Kay
Laurie
Lesley
Lillie
Linda
Lisa
Louise
Lucinda
Lucy
Lyn
Maggie
Margaret
Marianne
Marilla
Marina
Mary
Miranda
Molly
Monica
Natalie
Olivia
Pamela
Patricia
Phyllis
Polly
Princess
Rachel
Rebecca
Rosalie
Rosalind
Sadie
Sally
Sarah
Serena
Shirley
Sophia
Sophie
Susan
Sue
Susannah
Valerie
Vena
Winnie
Zoe
Dog Names for Boys
Adolf
Alan
Alec
Alfred
Alistair
Andrew
Anthony
Augustus
Barrington
Basil
Bear
Benjamin
Bewly
Buster
Charles
Charlie
Christien
Christopher
Clive
Colin
Culverton
Daniel
Danny
Darby
Dave
David
Derek
Edmund
Edward
Elmer
Eric
Frank
Garry
Ged
George
Gordon
Graham
Greg
Gregory
Harrold
Harry
Horatio
Howard
Hugh
Humphrey
Ian
Jack
James
Jeff
Jeremy
John
Jonathan
Jude
Julian
Keith
Kenneth
Kenny
Lee
Lesley
Lucky

Malcolm
Mark
Martin
Max
Michael
Mycroft
Neville
Nicholas
Nick
Nigel
Patrick
Paul
Peter
Philip
Ralph
Ray
Richard
Robert
Roger
Rowland
Rupert
Sam
Samuel
Simon
Stephan
Stephen
Stratford
Stuart
Terrence
Terry
Thomas
Tom
Timothy
Trevor
Victor
Vladimir
Warren
William
Willoughby
African Dog Names
Abebe
Adah
Adana
Adofu
Africa
Ajani
Akili
Ali
Alika
Amadi
Ameena
Amina
Amira
Anana
Anika
Anisa
Asabi
Asha
Ashanti
Ashia
Asis
Aslai
Atu
Aziza
Azuka
B's
Bakar
Bamileke
Banji
Barke
Baruti
Belay
Biton
Bomani
B's cont
Braima
Bron
Bumum
Bushman
Cairo
Cameroon
Cheche
Chibale
Chigaru
Chika
Chimelu
Chioke
Chipo
Chisisi
Chuma
Congo
Cous Cous
Cyrah
D's
Dalila
Dan
Dauv
Deka
Delv
Diallo
Diata
Ekon
Fang
Faraji
Gabon
Gahiji
Gamba
Ghana
Hadiya
Hasan
Hasani
Hasina
Igbo




Ivory
Jabari
Jelani
Kabili
Kacela
Kalei
Kamau
Kaya
Kenya
Kia
Kiah
Kirabo
Kitoko
Kom
Kruger
L's
Lagos
Lagos
Lisimba
M's
Malawi
Maliika
Mandala
Manu
Masai
Matabele
Mbwana
Mpenda
Mtima
Musa
Mwamba
Mwinya
Mwita
N's
Nairobi
Ndembo
Ngil
Nigeria
Nkosi
Nuru
O's
Omari
P's
Punu
R's
Rashidi
S's
Saba
Sadiki
Sahara
Salim
Shaka
Shomari
S's cont
Songye
Suhuba
T's
Taj
Tandiwe
Tanishia
Tau
Temba
Tikar
Timbuktu
Tunza
Tunza
Y's
Yacouba
Z's
Zaire
Zareb
Zikomo
Zimbabwe
Zuberi
Zulu


Chinese Dog Names
Ah
Ah Kum
Ah Lam
Ai (feminine)
An (feminine)
Bai
Bao (feminine)
Bing Qing
Bo (feminine)
Chan
Chang
Chan-O (feminine)
Chang Juan
Chao
Chaoxing
Chen
Cheng
Cheng-Gong
Cheung
Chih-nii
Chin
Chong
Chow
Chuang-Mu
(feminine)
Chu-Hua
Chu-Jung
Chun
Chung
Cong
Da
Da-Xia (feminine)
Deshi
Dewei
Dong
Fai
Fang
Fang Yin (feminine)
Fen (feminine)
Feng (feminine)
Feng-Po-Po
(feminine)
Fu
Fu-His
Guan-Yin (feminine)
Hai
Heng
Ho
Hou-Chi
Howin
Ho Howin
Hsin
Hsi Wang Mu
(feminine)
Hu
Hua
Huan
Huan Yue
Huang
Hui Ying
H's cont
Huo
Hu-Tu
Jia (feminine)
Jia Li (feminine)
Jiang Li
Jiao
Jin
Jing
Jing_Quo
Ju (feminine)
Juan (feminine)
Jun (feminine)
Kua Hua
Kuan Ti
Kuan-Yin (feminine)
Kueng
Kun
Lan (feminine)
Lee
Lei (feminine)
Li
Li Hua
Lian (feminine)
Liang
Lien (feminine)
Lien Hua
Like
Liko
Li Ming (feminine)
Li Mei (feminine)
Li Qin
Li Rong (feminine)
Li Wei (feminine)
Lim
Lin Lin
Ling (feminine)
Lin Yao (feminine) Lok
Long Lu-Hsing
Lo Shen (feminine)
Lu-Hsing
Lu-Pan

Ma-Ku (feminine)
Manchu
Mani
Mat Chinoi (feminine)
Mee (feminine)
Mei (feminine)
Ming
Ming Yue
Mu
Mulan (feminine)
Mu Lan
Mu Tan
Na
Ning
Niu (feminine)
Nuo
Ping
Qi
Qiao
Qing (feminine)
Qing Yuan
Qiu
Quon
Rong
Ru
San
Shaiming
Shaka
Shan
Shang-Ti
Shen
Shing
Shin-Mu (feminine)
Shou-Hsing
Shu
Shuang
Shu Fang
Shui
Shun (feminine)
Sun
Sying
Tai
Tao
Tien-Hou (feminine)
T'ien-Khuan
Tien-Mu (feminine)
Ti-Khuan
T's cont
Ting Ting (feminine)
Tou-Mou (feminine)
Tsi-Ku (feminine)
Tsai Shen
Tu
Twen-Ch'ang
Ushi
Wan (feminine)
Wang
Wei
Wei-Quo
Wen (feminine)
Wu
X's
Xia
Xia He (feminine)
Xiang
Xiao Chen
Xiao Hong (feminine)
Xin Qian (feminine)
Xiu (feminine)
Xiu Juan (feminine)
Xue
Xue Fang
Xun
Yan Yan
Yao-Shih
Yeng-Wang-Yeh
Yi
Yi Jie
Yan
Yi Min
Yin (feminine)
Yin Youg
Ying
Yi Ze (feminine)
Yu
Yuan
Yue
Yue Ying
Yu Jie
Yue Yan
Yue You
Yue Wan
Yul
Yun's
Zan (feminine)
Zen
Zhen (feminine)
Zhen Juan
Zhi
Zhou
Zi (feminine)
French Dog Names
Adele
Adieu
Adrien
Agathe
Alette
Amand
Amilcare
Andre
Angawazialp
Angeline
Angelique
Antonio
Arette
Aubree
B's
B.B. short for Brigitte
Bardot
Balzac
Baron
Beatrix
Beaux
Bisou
Bonaparte
Bordeaux
Boulee
Brie
Briea
Brigitta
C's
Camille
Catan
Celeste
Chablis
Chamonix
Chanel
Cheddar
C's cont
Chein
Chenin
Chien
Citroen
Claudine
Clovis
Corbie
Cosette
Courbet
Cozette
Dagobert
Damien
Daniell
D'Artagnan
Dentelle
Dominique
Drogo
Edgard
Elisa
Elle
Esme
Etienne
Etoile
Fabien
Fezziwhig
Flore
Franchesca
Gaspard
Geraud
Gunter
Idalina
Ignace




Igual
Isabeau
Isabelle
Ivette
Jacques
Javert Jean
Jean Francois
Jean Marie
Jean Michel
Jean-Claude
Jean-Paul
Jock
Julien
Kimonie
Koko
Laia
Laurent
Lissette
LouLou
Loya Madeleine
Malo
Manet
Marcel
Margaux
Marrashe
Matisse
Matthieu
Merlot
Michelle
Millennium
Milou
Missy
Morris
Moustache
Nadine
Nannette
Napoleon
Nathalie
Nathaniel
Neige
Nicolette
Noir
Odon
Olivier
Panini
Paris
Pax
Peche
Peugeot
Pierre
Rachelle
Renault
Rodin
Rodrique
Romeo
Rosemarie
Sasarapilla
Serea
Stephane
Sweets
Tout
Ursule
Veronique
Vincenz
Violette
Vitre
Yves
Zedon
Zhako
Scotish and Irish Dog Names
Aberdeen
Adhamh

Afric
Aidan
Aila

Aife (feminine)
Ailein
Ak

Alastair
Andraste
Ardra
Asna
Bannon
Beth

Blair
Brady
Calla

Cara
Deirdre
Donagh
Eara
Eiric

Felan
Fennore
Gavin





Gitta
Grania
Gwennethona
Innis

Ione
Isolda
Jenny
Keevin
Keiran
Lia
Lorcan
Macgowan
Macgregor
Machair
Macray
Morag

Quillan
Reagan
Renny
Rohan
Sheena
Italian Names for Dogs
Adriano
Adriana
Bruno
Bianca
Cadenza
Constantin
Fabrizio
Ghita
Ignacio
Leonardo

Luisa
Maura
Oriana
Orlando
Rosalie
Ugo
Vittorio
Viviana
Spanish Names for Dogs
Abril (feminine)
Adelita (feminine)
Adoncia (feminine)
Alejandra (feminine)
Aletea (feminine)
Alicia (feminine)
Alma (feminine)
Almeda (feminine)
Alonzo
Amada (feminine)
Amata (feminine)
Anica (feminine)
Anita (feminine)
Antonio
Antonieta (feminine)
Armand
Armando
Avigdor
Balboa
Beatrisa (feminine)
Beatriz (feminine)
Bebe (feminine)
Belen (feminine)
Belicia (feminine)
Belinda (feminine)
Benicia (feminine)
Bernardo
Bertina (feminine)
Berto
Bertunga (feminine)
Blanca (feminine)
Bonita (feminine)
Branca (feminine)
Brigida (feminine)
Brisa (feminine)
Cailida (feminine)
Carina (feminine)
Carissa (feminine)
Carlo
Carlos
Carlotta (feminine)
Carmen (feminine)
Carmine (feminine)
Catalina (feminine)
Chago
Charo (feminine)
Chencho
Ciro
Consuela (feminine)
Consuelo (feminine)
Corazon (feminine)
Cornelia (feminine)
Cristina (feminine)
Damita (feminine)
Dante
Dario
Dela (feminine)
Diaz
Diego
Dolores (feminine)
Domingo
Don
Donato
Doncia (feminine)
Dorinda (feminine)
Drina (feminine)
Duena (feminine)
Eduardo
Eldora (feminine)
Elisa (feminine)
Eloisa (feminine)
Eloy
Elsa (feminine)
Elvira (feminine)
Emellio
Enriqueta (feminine)
Esmerelda (feminine)
Esperanza (feminine)
Esteban
Estefany (feminine)
Eva (feminine)
Federico
Felicia (feminine)
Felipe
Fernanda (feminine)
Fernando
Francisco
Franco
Frederica (feminine)
Gabriela (feminine)
Galeno
Geraldo
Gidita (feminine)
Gitana (feminine)
Gitano
Guadalupe
Guido
Hernandez
Hernando
Ines (feminine)
Inez (feminine)
Inigo
Innocenzio
Inocencia (feminine)
Isabel (feminine)
Isabella (feminine)
Jacinta (feminine)
Jacinto
Jade (feminine)
Jaime
Jaira (feminine)
Jaoquin
Javiera (feminine)
Jerico
Jesusa (feminine)
Joaquin
Joaquina (feminine)
Javiera (feminine)




Jerico
Jesusa (feminine)
Joaquin
Joaquina (feminine)
Jose
Juan
Juana(feminine)
Juanita (feminine)
Lali (feminine)
L's cont
Lando
Lareina (feminine)
Laura (feminine)
Lela (feminine)Lencho
Letitia (feminine)
Leya (feminine)
Licha (feminine)
Linda (feminine)
Lisandro
Lolita (feminine)
Lorenzo
Loretta (feminine)
Lota (feminine)
Luccas
Lucinda (feminine)
Lucita (feminine)
Luis
Luisa (feminine)
Luna (feminine)
Luz (feminine)
Magdalena (feminine)
Manco
Mango
Manuel
Marco
Marcos
Maria (feminine)
Marina (feminine)
Marquez
Marto
Mathias
Mega (feminine)
Melia (feminine)
Melosa (feminine)
Mercedes (feminine)
Miguel
Minel
Mora (feminine)
Morisak (feminine)
Nana (feminine)
Napier
Natan
Navarro
Necha (feminine)
Nelia (feminine)
Neper
Nesho (feminine)
Neva (feminine)
Nevada
Nicabar
Nicolas
Nina (feminine)
Nita (feminine)
Oalo
Orlo
Pablo
Paloma (feminine)
Pancho
Patia (feminine)
Paz
Pedro
Pepe
Pepillo
Pepita (feminine)
Peralta
Pilar (feminine)
Placido
Ponce
Queta (feminine)
Rafaela (feminine)
Ramon
Ramona (feminine)
Raul
Renaldo
Ria (feminine)
Ricardo
Rico
Rima (feminine)
Risa (feminine)
Rodrigo
Rolon
Rosa (feminine)
Rosana (feminine)
R's cont
Rosario
Rosita (feminine)
Ruy
Salvadore
Sanchez
Sanson
Santiago
Santo
Savannah (feminine)
Senon
Serge
Sidonio
Silvino
S's cont
Sita (feminine)
Suela (feminine)
Tasia (feminine)
Teodoro
Tiago
Ticho
Trisa (feminine)
Vicente
Vito
Related Articles on Names for Dogs
Popular Names For Dogs 

Naming Your Labrador